Game Summaries & Headlines
.
Grizzlies stun defending champs, Keene, on the road, 7-4!
Game Date

Jan 2, 2019

Score

GRIZZLIES: 7
KEENE HIGH SCHOOL: 4
From Keene Ice in Keene, NH - January 2, 2019:
It's a new year, and the Grizzlies made the long trip over some rather large hills to play at Keene, looking for a new result. Goffstown hadn't beaten Keene in a hockey game since a 3-2 win at home on January 17, 2015. As a matter of fact, the Black Birds had won five straight against Goffstown, and by a lopsided total score of 27-7.
For Goffstown, and their faithful, last night was more about resolve than it was about a New Year's resolution. The Grizzlies stormed back from a 4-3 deficit after two periods, and beat Keene 7-4, matching their combined offensive totals spanning their last five contests with them. There were a lot of good hockey plays and skills demonstrated in this game, by both sides.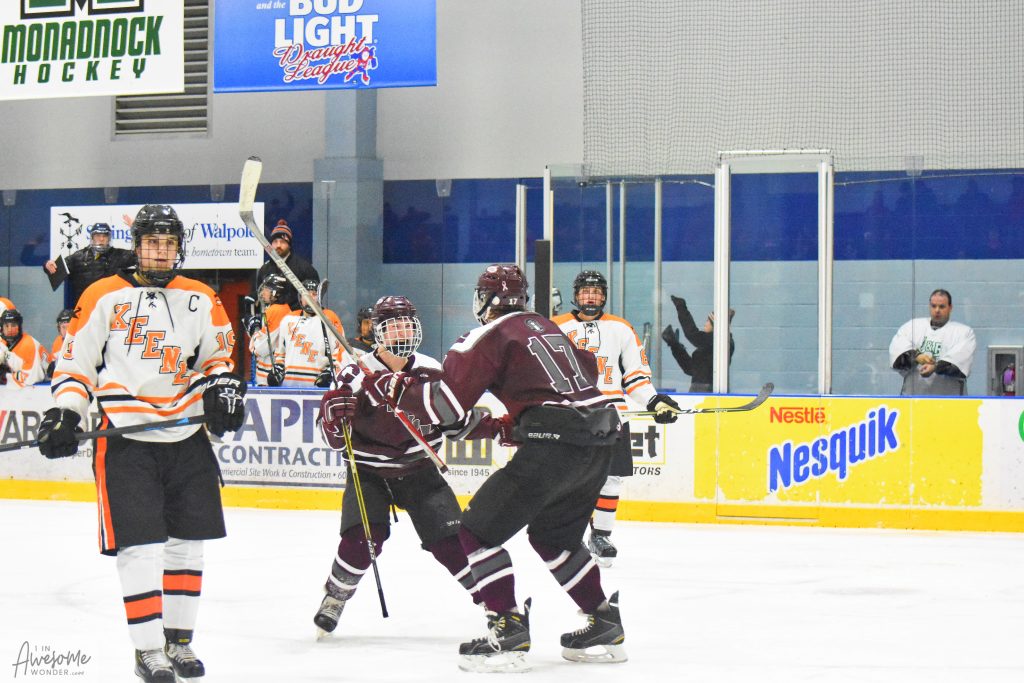 Beal and Cook celebrate a goal at Keene. (Sage photo)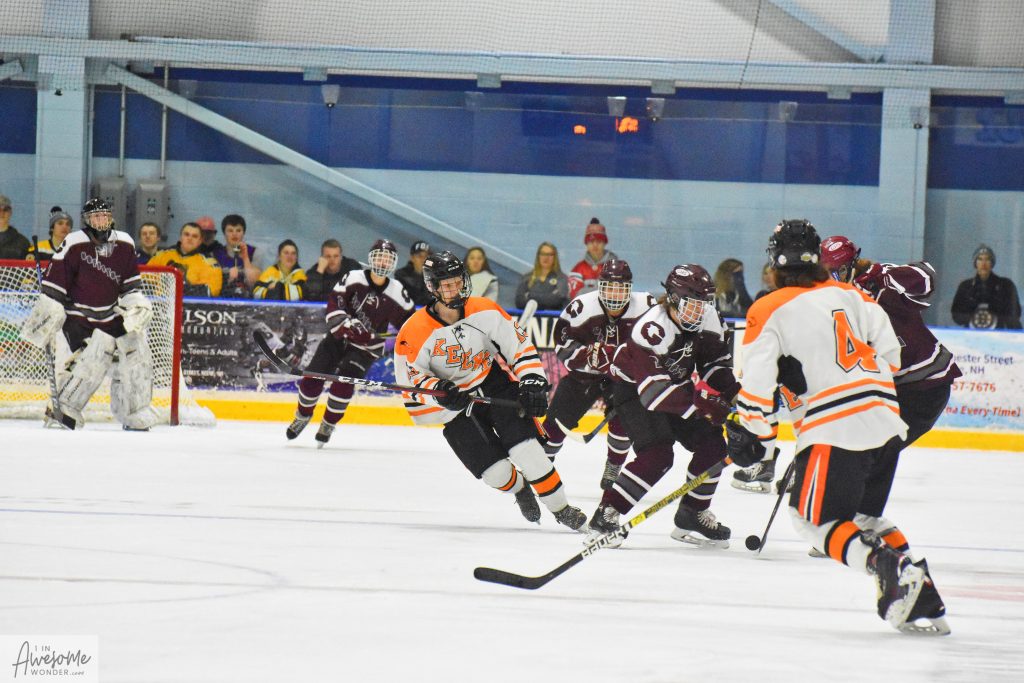 The Grizzlies did everything they could to keep Keene at bay. (Sage photo)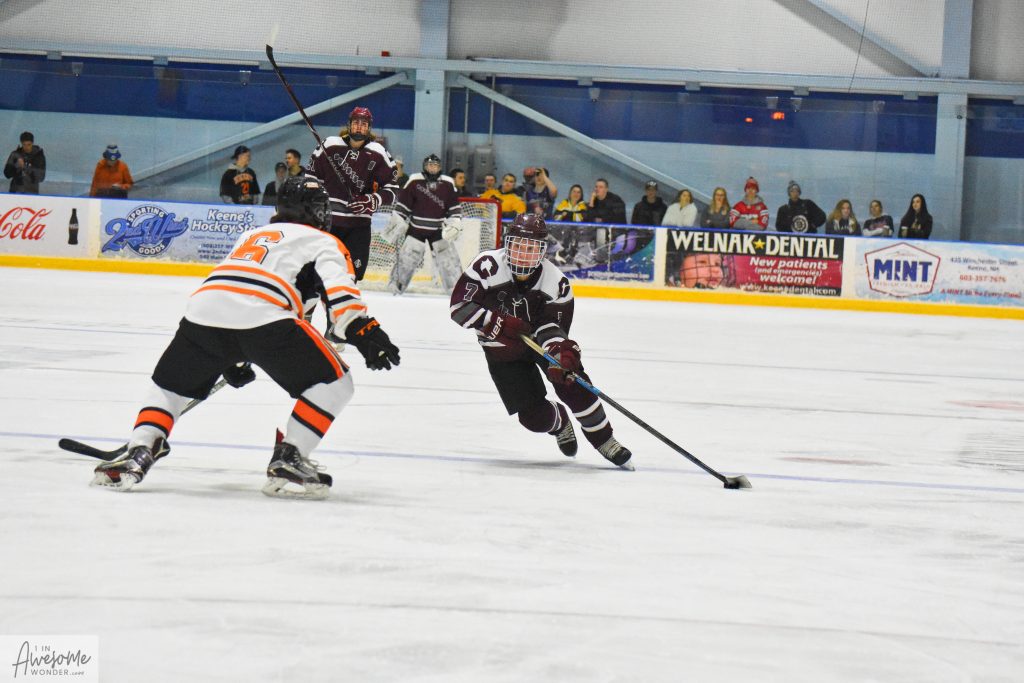 Grady Chretien tries to get past Ethan Russell at Keene. (Sage photo)
To the game. Keene struck first when a seemingly innocent turnover by Goffstown in their offensive zone turned quickly into a 2-on-1 break after a quick pass from Brian Langevin to Jerred Tattersall. Now, let me tell you about these two players. Langevin, whose older brother was a great player at Keene and also a captain, is a legitimate distributor of the puck. This guy has his head up and gets pucks to the right spots at the right time with seemingly ease and regularity. Then Tattersall, who I have seen less of, but enough, for now, can skate like the breeze, and has a wrist shot that I haven't seen since Sam Greenwood (Goffstown) was getting opponents attention in pregame warmups all over the state a few years ago. Anyways, Tattersall broke into the zone with Ben Brown on his right, and at full speed, absolutely ripped a wrister past Kyle LaSella in net for Goffstown. The goal came at 1:58 of the opening period. The Keene faithful were quick to chant something about how much trouble Goffstown was in. Kyle LaSella made a tremendous save at 3:55 of the period, on a Keene wraparound attempt that nearly worked. Then, at 4:10 of the period Goffstown tied it at 1-1 when Colby Wright sent a pass up the left wing boards to Griffin Cook and he connected with Sebastian Beal on a beautiful pass play, with Beal netting the goal behind Jacob Russell in goal for Keene. Beal would add another goal at 8:42 after the Grizzlies showed patience and excellent passing with Cook passing to Brett Lassonde, to Beal in front of the net. Goffstown led 2-1 at the break and held Keene to just 5 shots on goal in the period.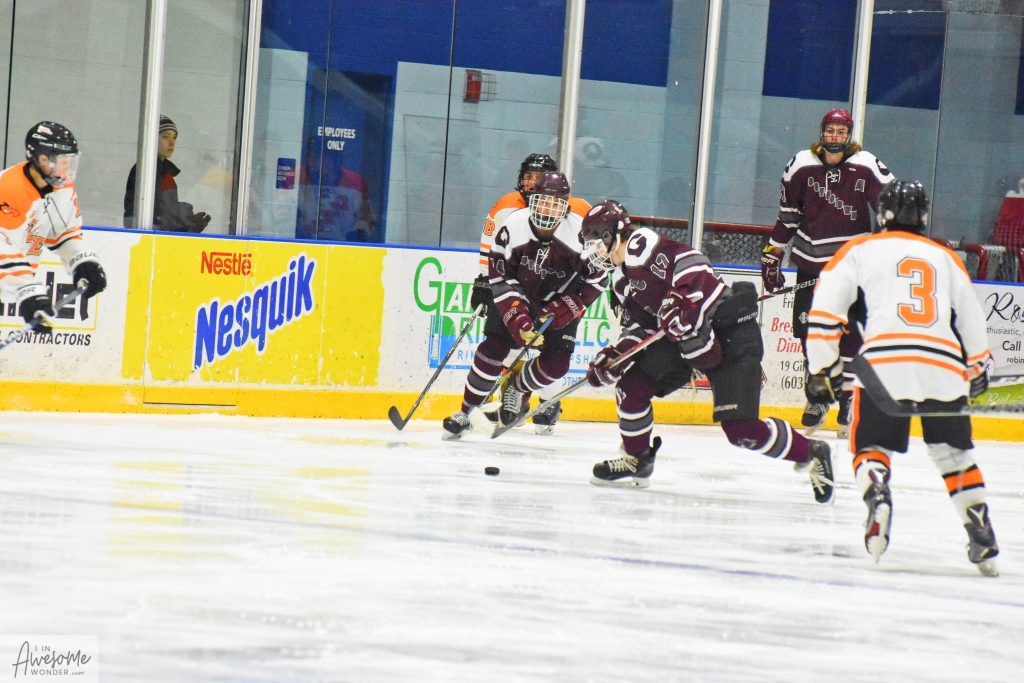 Sebastian Beal heads up ice with Colby Gamache and Colin Burke. (Sage photo)
Keene came out in the middle frame with a renewed energy, and it was evident early. Grizzlies defenseman, Brett Lassonde pinched in on the right wing boards in an attempt to contain the puck in the offensive end but he fell down and the puck came out of the zone. Like lightning, Brian Langevin had the puck and led Jerred Tattersall up ice with a perfect feed. Tattersall, again, bolted into the offensive zone and sent a laser beam of a wrist shot just inside the post and just under the crossbar at 3:43. A brilliant shot of precision. 90 seconds later the Grizzlies turned the puck over on their breakout but Kyle LaSella made a nice save on a quick Keene 2-on-1 that developed down low. With both teams skating 4-on-4 after a pair of bewildering calls, it was Tattersall again for Keene, with another demonstration of accuracy with a near perfect shot for an unassisted goal at 7:31 to give the Blackbirds a 3-2 lead.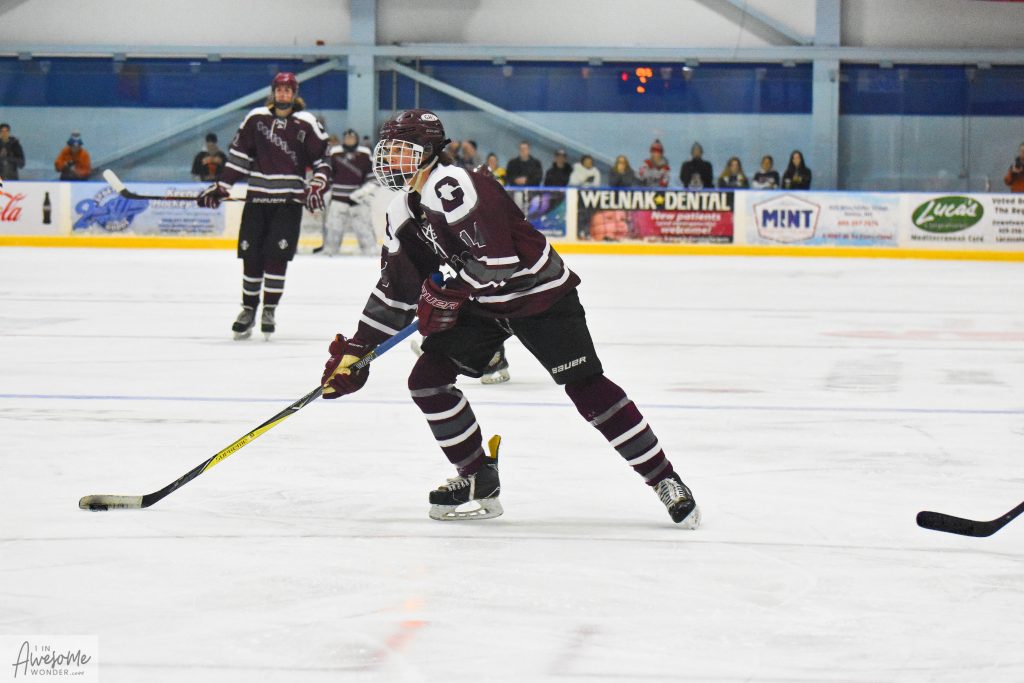 Colby Gamache had another big night out in Keene. (Sage photo)
After some more penalties, the Grizzlies tied it up on a power-play goal from Luke Chase. Colin Burke did some tremendous muscle work to maintain possession of the puck and worked it to Colby Gamache who was under heavy pressure from Keene's aggressive penalty kill. Gamache finessed a pass to the slot where Chase one-timed the shot just pass Jacob Russell in net, at 9:24. Keene would get a power-play opportunity moments later and Kyle LaSella made another great save, this time with the glove, as moved right to cut the angle but then reached back to his left to snag a low shot labeled for the far side. Then Ben Brown tapped a power-play goal in for Keene, right from the doorstep, on a beautiful pass from Brian Langevin. The goal came at 14:02 of the period. Goffstown had a few chances in the final minute of the period but Russell held the fort and Keene took a 4-3 lead to the second intermission.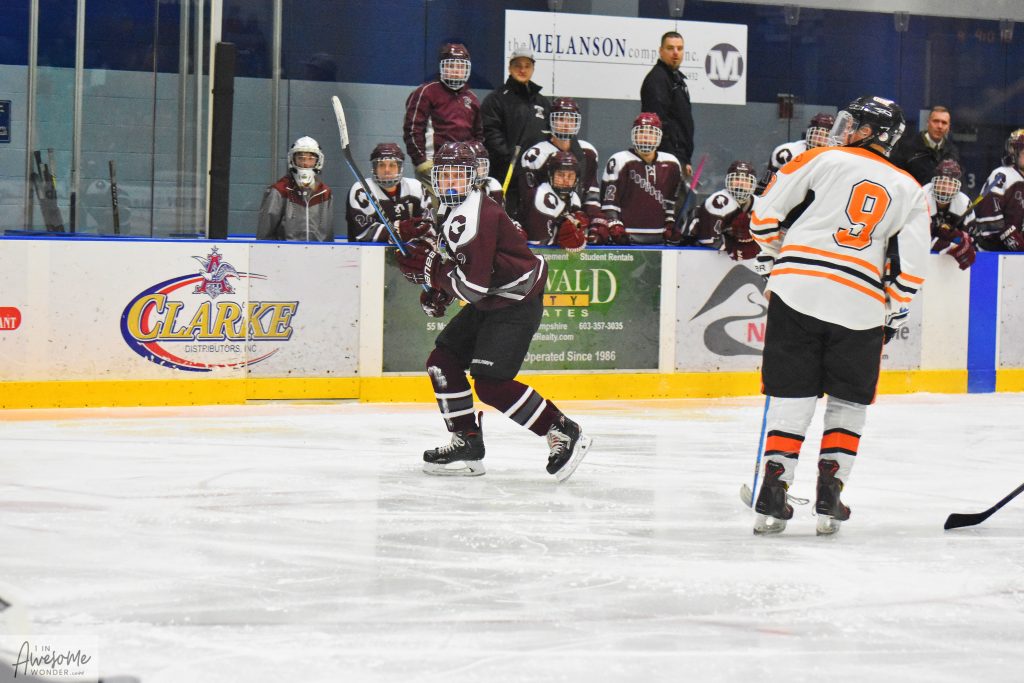 Luke Chase had a power-play goal in Goffstown's win at Keene. (Sage photo)
With 15.4 seconds left in the middle period, Keene took a penalty that was called hitting from behind but changed to roughing, which is a 2:00 minor vs. a 5:00 major. I can't make this stuff up, that's how it was written on the scoresheet. Anyways, with Goffstown still on the power-play to start the final period, the Grizzlies made it count. The play started with Griffin Cook when he deked to the inside, circled with the puck at the left-wing faceoff dot and dropped a pass back to Colin Burke at the left point. Burke made a quick, precise, diagonal pass to Colby Gamache who tapped the puck into the net from the right side of the crease to tie the game at 0:22. It was a little later on when Goffstown had been in the offensive zone for some time with the puck that Keene looked like they were going to break the puck out with good numbers. But Sebastian Beal dove head first with his stick extended to knock the puck free, still in the zone, and laid a blind pass right on to the stick of Colby Gamache.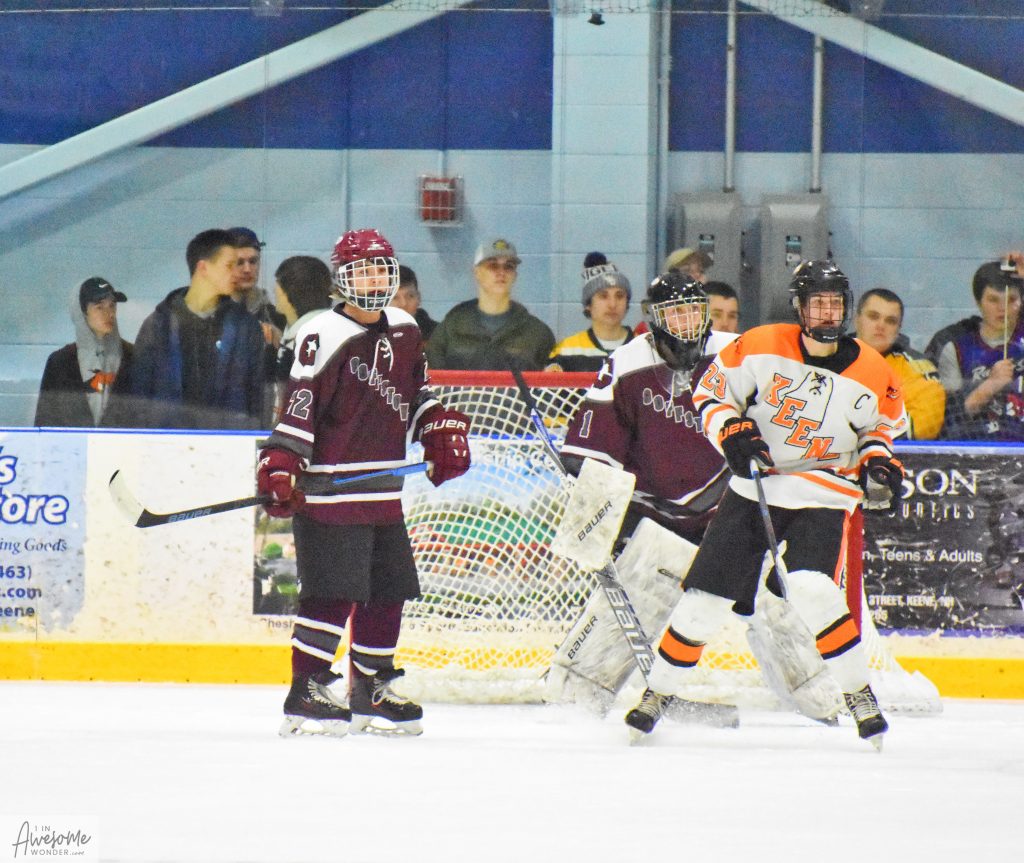 Brett Lassonde and Kyle Lassonde ready to defend at Keene. (Sage photo)
Gamache made a quick move at the top of the circle and found himself alone with Jacob Russell. Russell came out, cut the angle and any chance to get around him which was about as well as he could have. Somehow, Gamache was able to lift the puck straight up, on his backhand, over Russell, and under the crossbar at nearly no angle whatsoever. It was an incredible finish on a hustle play against a goaltender that did everything right to bail his team out. Now Goffstown had the lead at 4:55.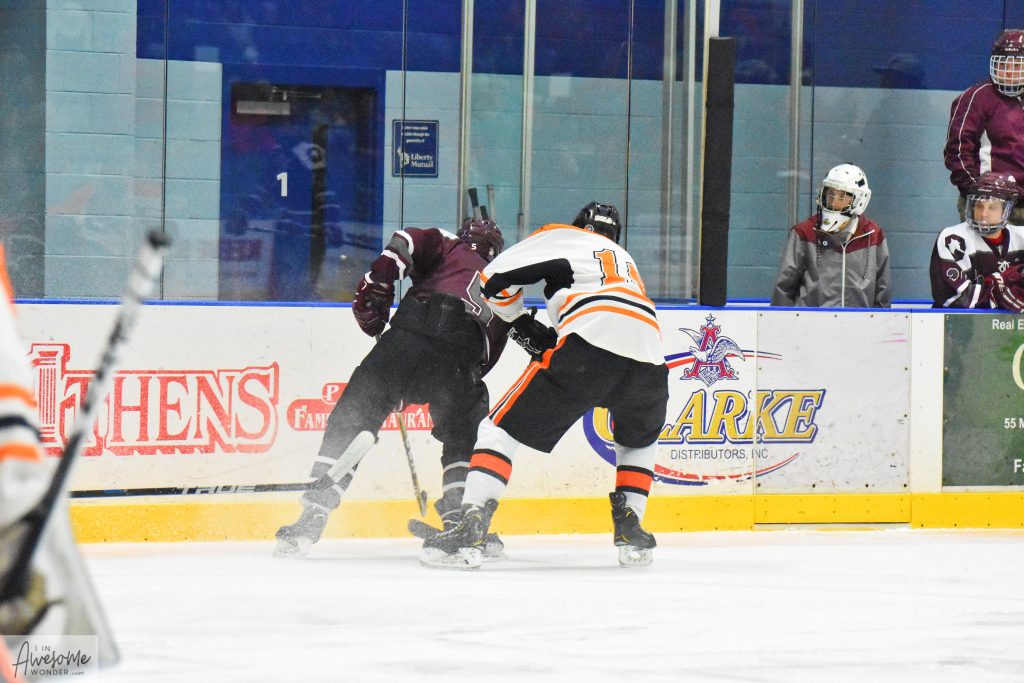 Griffin Cook always works hard along the boards. (Sage photo)
The teams went back and forth with Goffstown really applying a lot of offensive pressure which might also have been their best defense at the time. I will say that Colin Burke, Isaac McGregor, Colby Wright, Brett Lassonde, and Jacob Noonan all did a pretty fantastic job limiting a very good offensive Keene team overall though. Then after a whistle with 5:53 to play, the clock never started for a whole 35 seconds of play which also happened to be the start of a power-play for Keene. So, Goffstown ended up killing the 2:35 man advantage and then took a 6-4 lead with 4:39 to play. Sebastian netted his third goal of the game on more great puck movement from the Grizzlies after Beal had led Gamache into the zone with a pass. Gamache dropped the puck to Griffin Cook on the left-wing boards. Cook spun and made a no-look pass to Beal in the slot for the goal. Moments later, Brett Lassonde hit Grady Chretien with a gorgeous outlet pass that sprung him into the offensive zone where he blasted a shot that glanced off of the left shoulder of Jacob Russell and fell behind him, spinning like a top as it spun just over the goal line.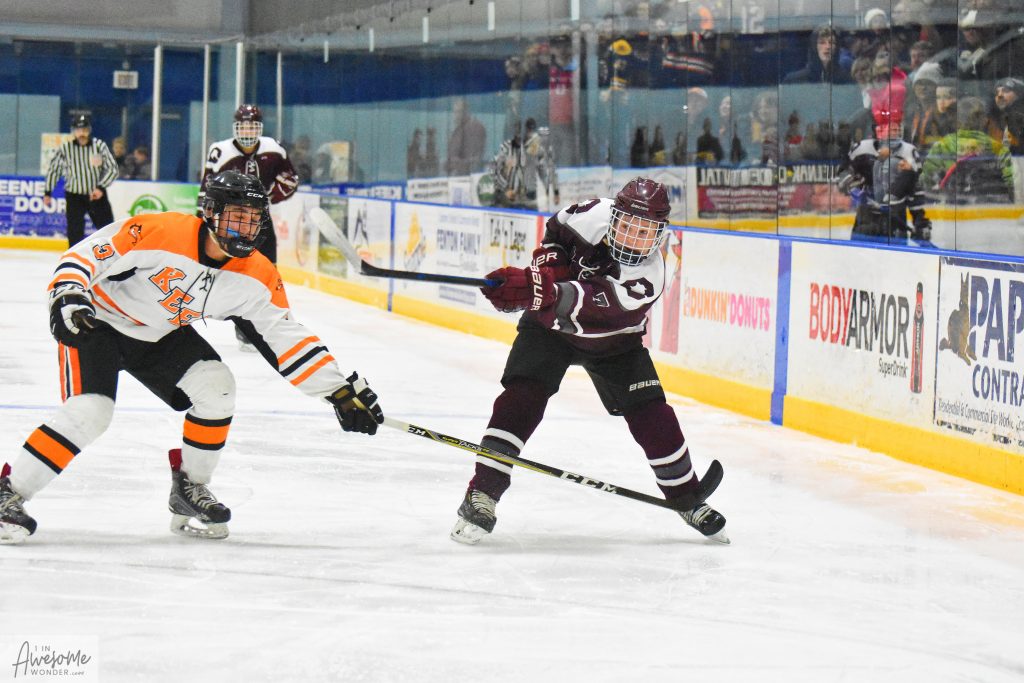 Grady fires a shot on goal at Keene. (Sage photo)
The nearest official was waving the goal off already, but the puck was still spinning and Chretien followed his own shot and jammed the puck into the net so that everyone was on the same page, and Goffstown had a 7-4 lead at 12:07 of the period. Then an accentuated version of the muffled, mumbled, public address announcement of visiting teams' goals that Keene Ice is getting a reputation for, made me laugh right out loud. Game presentation, hilarious. But maybe if you don't hear it, it didn't happen. At 13:57 of the period Ben Brown took advantage of a Goffstown defensive turnover but his shot whistled just inches wide of an open net. The final score read 7-4, and despite allowing 7 goals, Jacob Russell made a lot of saves from all directions and angles for Keene. Kyle LaSella settled down after the first goal and saved 23 of the next 26 shots he faced. Keene is very good. Their first two lines are a threat to score every time they are on the ice. I personally thought Ethan Russell was their best defender all night. He skates very well and gets his feet in front of offensive players which makes his poke checking skills look easy while being a nightmare to one trying to stickhandle around him.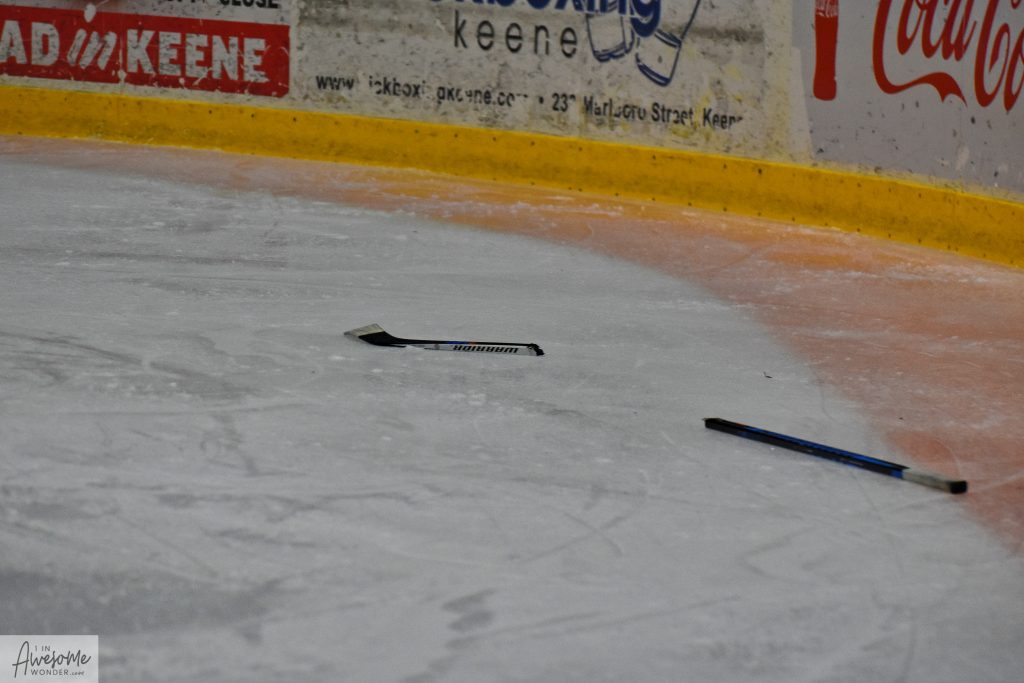 Four-year streak broken. (Sage photo)
The Grizzlies found ways to create offense and finish. This was only Keene's second regular-season loss in 2+ seasons which I know can fluctuate mightily with graduations and full-season teams. The Blackbirds have been good for a few years now, going to the last two Championship games in Division II. I am sure they will be a team to beat down the stretch this year as well. As for Goffstown, they played a very solid first period, and a great third period, while Keene took it to them in the middle period. This is why they play the games; you just never know what you're going to see.
The Grizzlies had quite a bit to celebrate at Keene. (Sage photo)
Keene travels to Kingswood on Saturday afternoon, while the Grizzlies will play their 5th road game in 6 contests when they travel to Rochester to play Somersworth-Coe-Brown on Saturday night.
St. Thomas rolled over Timberlane 8-1 last night. Lebanon-Stevens-Mt. Royal edged Kingswood 5-4. Merrimack and Somersworth-Coe-Brown skated to a 3-3 tie. Portsmouth-Newmarket improved to 3-1 with a 5-4 win at Bow. Alvirne-Milford also improved to 3-1 with a 7-3 victory at Spaulding. Dover stayed perfect, at 5-0, with a 3-1 win at Winnacunnet. Dover was upended in the Peter Hall Christmas Classic championship game by Division III champs John Stark-Hopkinton 4-1, last weekend. Both opponents are on Goffstown's schedule this season.
---
NHIAA Hockey:
Keene Ice, Keene, NH
Updated Records:
Goffstown (7-1-1)
Keene (2-1)
January 2, 2019. 7:00 PM Start:
---
Summary:
Goals:
Goffstown: 2-1-4 = 7
Keene: 1-3-0 = 4
---
Shots:
Goffstown: 10-11-19 = 40
Keene: 05-12-10 = 27
---
Scoring:
1st Keene at 1:58. Even. Jerred Tattersall from Brian Langevin.
1st Goffstown at 4:10. Even. Sebastian Beal (6) from Griffin Cook (12) and Colby Wright (4).
1st Goffstown at 8:42. Even. Sebastian Beal (7) from Brett Lassonde (7) and Griffin Cook (13).
---
2nd Keene at 3:43. Even. Jerred Tattersall from Brian Langevin.
2nd Keene at 7:31. Even. Jerred Tattersall unassisted.
2nd Goffstown at 9:24. PPG. Luke Chase (1) from Colby Gamache (10) and Colin Burke (5).
2nd Keene at 14:02. PPG. Ben Brown from Brian Langevin.
---
3rd Goffstown at 0:22. PPG. Colby Gamache (10) from Colin Burke (6) and Griffin Cook (14).
3rd Goffstown at 4:55. Even. Colby Gamache (11) from Sebastian Beal (17).
3rd Goffstown at 10:21. Even. Sebastian Beal (8) from Griffin Cook (15) and Colby Gamache (11).
3rd Goffstown at 12:07. Even. Grady Chretien (12) from Brett Lassonde (8).
---
Penalties:
Goffstown:
Colby Gamache 2:00
Griffin Cook 2:00
Sebastian Beal 2:00
Colin Burke 2:00
Jacob Noonan 2:00
---
Keene:
Joseph Walsh 2:00
Brian Langevin 2:00
Joe Walsh 2:00
John Smart 2:00
Dimitri Seger 2:00
Dimitri Seger 2:00
---
Special Teams:
Goffstown Power Play: 2 for 4.
Keene Power Play: 1 for 3.
---
Saves:
Goffstown: Kyle LaSella 23 of 27. (45:00)
Keene: Jacob Russell 33 of 40. (45:00)
https://goffstownathletics.com