Game Summaries & Headlines
.
Grizzlies Hockey travels to Lebanon and leaves with 6-3 win!
Game Date

Dec 19, 2018

Score

GRIZZLIES: 6
LEBANON: 3
From James F. Campion Arena in West Lebanon, NH - December 19, 2018:
Goffstown went to Lebanon for their third road game in their first four games of the 2018-2019 campaign and earned a convincing 6-3 victory.
Grady Chretien gathers the puck in front of his own bench in the win at Lebanon. (Sage photo)
The pace of the opening period was fast and furious. It was like an NHL All-Star Game in the sense of spacing and lack of defensive physicality. I could be wrong, but I thought I heard players saying things like, "No, you go right ahead" and "Pardon me, I apologize for the disruption". Something like that.
Passive was defined over and over again. I actually wrote the word 'passive' in the middle of my notepad, among the other chicken scratch. With that said, the Grizzlies fell behind 1-0 when Colby Wright made a clearing attempt from the defensive end. Unfortunately for Colby and Goffstown, Trey Chickering was still home at his left point position and easily snagged the puck. Chickering stepped into the middle of the ice without being pestered and rifled a shot past Kyle LaSella in net for the Grizzlies at 6:25. Wright did a lot more right than he did wrong on the night. Goffstown answered less than two minutes later when Colby Gamache scored from Eric DesRuisseaux at 7:59. Then it was Lebanon's turn to take the lead at 8:30. Brian Daly scored on a rebound after LaSella made a really good first save. Nobody made it difficult for Daly and he popped the rebound into the back of the net. The play was set up by Mason Adams and Jack Sandmann. As ping pong goes, there was some back and forth, and Goffstown scored again to even things at 2-2 when Griffin Cook netted his first goal of the night off of a faceoff win from Colby Gamache at 10:48. Then Goffstown took a lead they would not give up for the rest of the evening.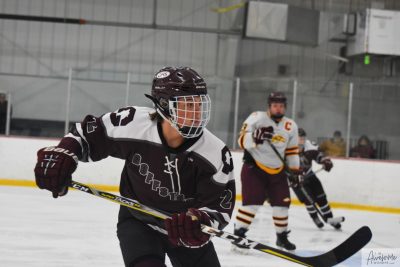 Luke Chase added an assist in Goffstown's win at Lebanon. (Sage photo)
Cook scored again, this time from linemates, Gamache and Sebastian Beal, at 12:48 of the opening period. The score would hold at 3-2 with Goffstown edging Lebanon-Stevens-Mt. Royal 16-12 in shots on goal. Both goaltenders, Hunter Robb for Lebanon, and Kyle LaSella for Goffstown made some great saves despite the 3-2 score.
It was apparent very early that Goffstown had been spoken to in the dressing room between periods. The Grizzlies were far more stingy when it came to the possession of the puck. They also were quite particular with what they allowed their opponent to do when they had the puck, holding the home team to just 4 shots on goal in the period. Goffstown took a 4-2 lead at 1:26 when Luke Chase and Sebastian Beal connected on passes to Grady Chretien who led the charge across the slot to score the goal. Then at 6:33 Colby Gamache scored from Griffin Cook and Sebastian Beal when he broke into the slot and scored from point-blank range.
Colby Gamache continued his torrid pace with 2 goals and a pair of assists at Lebanon. (Sage photo)
Lebanon scored at 11:14 when Aidan Yates was put in a position to score by Jon Cloud. Goffstown held a 5-3 lead after two periods and dominated the shot chart 13-4 in the middle period.
The third period was contested quite well. Lebanon was a bouncing puck, or a nice save by LaSella, away from making it a one-goal game for more than ten minutes. Then, a loose puck caromed from Colin Burke at center ice, back to Colby Wright in his own end. Wright did some nifty skating under light pressure to secure the puck and reverse it with a long pass up the left-wing boards to Griffin Cook. Cook, who, in my opinion, played his best game of the year, gathered the pass, made a great move and hit another gear as he shot into the offensive zone like a runaway train. With speed, a good angle, and an accurate shot, Cook buried his third goal of the night at 10:19. Things started to get a bit chippy in the final minutes with some runs being taken at various players on the winning side of things. Nothing got too far out of hand, and Goffstown left the Upper Valley with a 6-3 win and toting home a 3-0-1 record in league play prior to Christmas.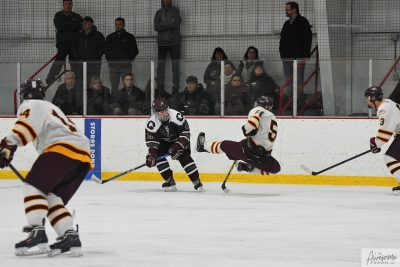 Jacob Noonan was a +3 on the night, and somehow avoided this flying karate kick against Lebanon. (Sage photo)
In NHIAA D2 action on Wednesday night, Dover stayed unbeaten (4-0) with a 6-4 win at home against the surging Alvirne-Milford squad led by Jake Natola and Levi Griffin. Kingswood won their second game in a row, getting past Oyster River, who has yet to win, 4-3. Portsmouth-Newmarket tripled up Spaulding, 3-1. St. Thomas improved to 2-1 with a 7-2 victory over Winnacunnet.
---
NHIAA Hockey:
Updated records.
Goffstown (3-0-1) at Lebanon-Stevens-Mt. Royal (1-2-0)
James W. Campion Arena, West Lebanon, NH
December 19, 2018.7:10 PM Start:
---
Summary:
Goals:
Goffstown: 3-2-1 = 6
Lebanon: 2-1-0 = 3
---
Shots:
Goffstown: 16-13-07 = 36
Lebanon: 12-04-06 = 22
---
Scoring:
1st Lebanon at 6:25. Even. Trey Chickering unassisted.
1st Goffstown at 7:59. Even. Colby Gamache (4) from Eric DesRuisseaux (1).
1st Lebanon at 8:30. Even. Brian Daly from Mason Adams and Jonathan Sandmann.
1st Goffstown at 10:48. Even. Griffin Cook (4) from Colby Gamache (5).
1st Goffstown at 12:48. Even. Griffin Cook (5) from Sebastian Beal (6) and Colby Gamache (6).
---
2nd Goffstown at 1:26. Even. Grady Chretien (6) from Sebastian Beal (7) and Luke Chase (1).
2nd Goffstown at 6:33. Even. Colby Gamache (5) from Griffin Cook (7) and Sebastian Beal (8).
2nd Lebanon at 11:14. Even. Aidan Yates from Jon Cloud.
---
3rd Goffstown at 10:19. Even. Griffin Cook (6) from Colby Wright (3) and Colin Burke (4).
---
Special Teams:
Goffstown Power Play: 0 for 2.
Lebanon Power Play: 0 for 2.
---
Saves:
Goffstown: Kyle LaSella 19 of 22. (45:00)
Lebanon: Hunter Robb 30 of 36. (45:00)
https://goffstownathletics.com