Game Summaries & Headlines
.
Grizzlies overcome 5-2 deficit in the 3rd period to win in OT!
Game Date

Dec 15, 2018

Score

GRIZZLIES: 6
WINNACUNNET HIGH SCHOOL: 5
From Sullivan Arena in Goffstown, NH - December 15, 2018:
For the second game in a row, there was a pre-game tribute of sorts to someone who has been taken too early from this earth. I was asked to lead the moment from the booth, which I had no problem with. When I asked for some direction on what to say, or in what order, etc. I was told, "just wing it".
So as game time approached, I began to feel a bit anxious about doing this honor proper justice. I take these matters seriously and hope that all is perfect, if not completely respectful. I shared information regarding the celebration of life for Shane Milianes back in the spring, and it took on a life of its own with comments, messages, and communications from people all over the place. I was humbled and honored.
And when today presented itself to me, I knew I would struggle with getting through any words at all. As I entered the booth before the game this afternoon, I wrote on my notepad, one quote from Shane's obituary, "...after living beautifully and courageously with ALS for 4 years..." that I loved then and still do now. Shane had a smile, and a sense of peace about him despite his pain, suffering, or physical limitations over his last few years. I feel that few people knowingly come to complete peace while still functioning on this earth, and it appeared to me that Shane had. His smile was present and contagious, especially around the team or any rink we may have been in at the time. As I choked through a few words today, I couldn't help thinking of Bryce somewhere in the arena, and Theo on the blue line, as they have been operating minus their dad for many months now. Hockey seemed not to matter at all for the moment, except for the service it had provided as a vessel of sorts over a period of time that brought all of us together, and from one place in life to another. Shane was one of us, or we were one with him, either way, he is missed, and I am honored to have been a part of remembering him today. Our hockey program will be making a future donation towards the cure of ALS as a result of today's game and sales of the blue ribbon stickers like the Goffstown player's started wearing on their helmets today.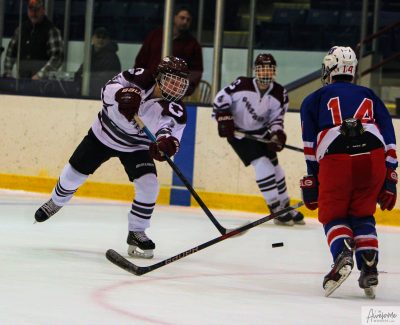 After all of that, there was a game to be played. And what a game it was! The first period was good enough I suppose, a couple of goals, a few penalties, and a Goffstown 13-4 advantage in shots on goal. Winnacunnet scored first when Carter Renaud scored an unassisted goal on the Warriors' third shot of the game, off of a Goffstown turnover at 5:11 of the period. Grady Chretien answered on the power play at 7:35, with assists going to Colin Burke and Colby Gamache on a beautiful hockey sequence. Just a few seconds later, Winnacunnet's Braeden Logue barreled in from the left side and rang a shot off of the far post. Then in the closing minute of the period, Madeline Sage made a huge save to keep the score at 1-1 after another Grizzlie turnover. The horn would sound with the score tied 1-1.
The second period was dominated on the scoreboard by the visitors from Hampton, NH. Winnacunnet scored 3 goals on just 8 shots to jump out to a 4-2 lead after two periods. Braeden Logue scored a pair of goals and assisted on another in the period. On the power play, after a penalty on the captain, Sebastian Beal, Logue needed just 8 seconds of the advantage to put the Warriors up 2-1, assisted by Thomas Vaziri. Again, Grady Chretien answered with his second goal set up by Theo Milianes and Colin Burke at 6:16. Then at 7:28 of the period goaltender Jack Ellis made two of his many outstanding saves against Sebastian Beal at point-blank range.
The second save was a brilliant left pad save that appeared certain to be a Grizzlie goal. As these things often times happen, Winnacunnet scored on the next shift after the brilliant save, when Logue scored again, from Thomas Vaziri, again. Just when it looked like the period may end, with a 3-2 Warriors lead, the visitors created 3 quick shots, including their 4th goal at 14:30 of the period. This time it was Thomas Vaziri from Braeden Logue on the goal. The period would end with Winnacunnet holding a 4-2 lead over the Grizzlies. Goffstown still led by a wide margin in shots at 22-12, but they trailed where it matters most, 4-2 on the scoreboard.
With the third period underway, the Grizzlie faithful were hopeful for a big comeback, but things actually got worse for the home team. Alex McCarthy was whistled for a 5-minute major boarding call at 1:43 and the Grizzlies were forced to kill a penalty and come back at the same time. As it would play out. Winnacunnet scored on the power play at 3:21 with a goal from Dan Giacalone, assisted by Braeden Logue. So now, with under 12 minutes to play, Goffstown trailed 5-2. With a major penalty, Winnacunnet remained on the power play. Sophomore Grady Chretien gave Goffstown hope with his third goal of the game, a shorthanded bid off of a turnover at 3:52.
Goffstown continued to press the issue and came in wave after wave. Winnacunnet pressed back and took back to back penalties in the process. Colin Burke the big defenseman for Goffstown scored on the first power play from Colby Gamache at 7:20, and the Grizzlies only trailed 5-4. Then on another power play, Colby Gamache tied the game at 5-5 after a gorgeous sequence of passes ending with Colby Wright to Colin Burke to Gamache for the goal, at 10:12. Regulation time would end with the score tied 5-5, despite Goffstown owning a 36-16 lead in shots on goal.
Once the overtime started there was a feeling in the building that Goffstown had wrestled momentum over to their side. Sure enough, at 2:43 into the overtime period, Griffin Cook passed to Sebastian Beal behind the net, before Beal centered a pass to Colby Gamache who cranked a shot past Jack Ellis in net. Goffstown won the game, 6-5 in overtime. Ellis for his part made 31 saves in the loss. Madeline Sage made 11 saves earning the victory.
Goffstown returns to the ice on Wednesday night (19th) when they travel to the great white north and play Lebanon-Stevens-Mount Royal at 7:10 pm at James W Campion Rink. Lebanon is coming off of a 4-1 victory over Somersworth-Coe-Brown earlier today.
In NHIAA Hockey action around D2 today, Keene beat Spaulding 5-3. St. Thomas rocked Oyster River at the Whit, 8-2. Merrimack bounced back with a 7-1 win against Timberlane. Alvirne-Milford improved to 2-0 with a 5-4 win at D3 powerhouse Kennett.
---
NHIAA Hockey:
Updated records.
Goffstown (2-0-1) vs. Winnacunnet (0-2-0)
Sullivan Arena, Goffstown, NH
December 15, 2018. 2:00 PM Start:
---
Summary:

Goals:

Goffstown: 1-1-3-1 = 6
Winnacunnet: 1-3-1-0 = 5
---
Shots:

Goffstown: 13-09-14-01= 37
Winnacunnet: 04-08-04-00 = 16
---
[gallery columns="2" size="medium" ids="18099,18100,18101,18102,18103,18104,18105,18106"]
Scoring:

1st Winnacunnet at 5:11. Even. Carter Renaud unassisted.

1st Goffstown at 7:35. Power Play. Grady Chretien (3) from Colin Burke (2) and Colby Gamache (3).

---

2nd Winnacunnet at 4:37. Power Play. Braeden Logue from Thomas Vaziri.

2nd Goffstown at 6:16. Even. Grady Chretien (4) from Theo Milianes (2) and Colin Burke (3).

2nd Winnacunnet 7:49. Even. Braeden Logue from Thomas Vaziri.
2nd Winnacunnet 14:30. Even. Thomas Vaziri from Braeden Logue.
---
3rd Winnacunnet at 3:21. Power Play. Daniel Giacalone from Braeden Logue.

3rd Goffstown at 3:52. Shorthanded. Grady Chretien (5) unassisted.

3rd Goffstown at 7:20. Power Play. Colin Burke (2) from Colby Gamache (4).

3rd Goffstown at 10:12. Power Play. Colby Gamache (3) from Colin Burke (4) and Colby Wright (1).
---
4th Goffstown at 2:43. Even. Colby Gamache (4) from Sebastian Beal (5) and Griffin Cook (3).
---

Special Teams:

Goffstown Power Play: 3 for 5.
Winnacunnet Power Play: 2 for 5.
---

Saves:

Goffstown: Madeline Sage 11 of 16. (47:43)
Winnacunnet: Jack Ellis 31 of 37. (47:43)
https://goffstownathletics.com