Game Summaries & Headlines
.
Grizzlies erupt for 10 goals in win at Merrimack!
Game Date

Dec 12, 2018

Score

GRIZZLIES: 10
MERRIMACK HIGH SCHOOL: 5
From West Side Arena in Manchester - December 12, 2018
As I sat down to write this recap, I literally removed my baseball cap and sat in silence for 22 seconds to honor Hunter Burke and the Burke family as I had done with the crowd at West Side Arena yesterday afternoon.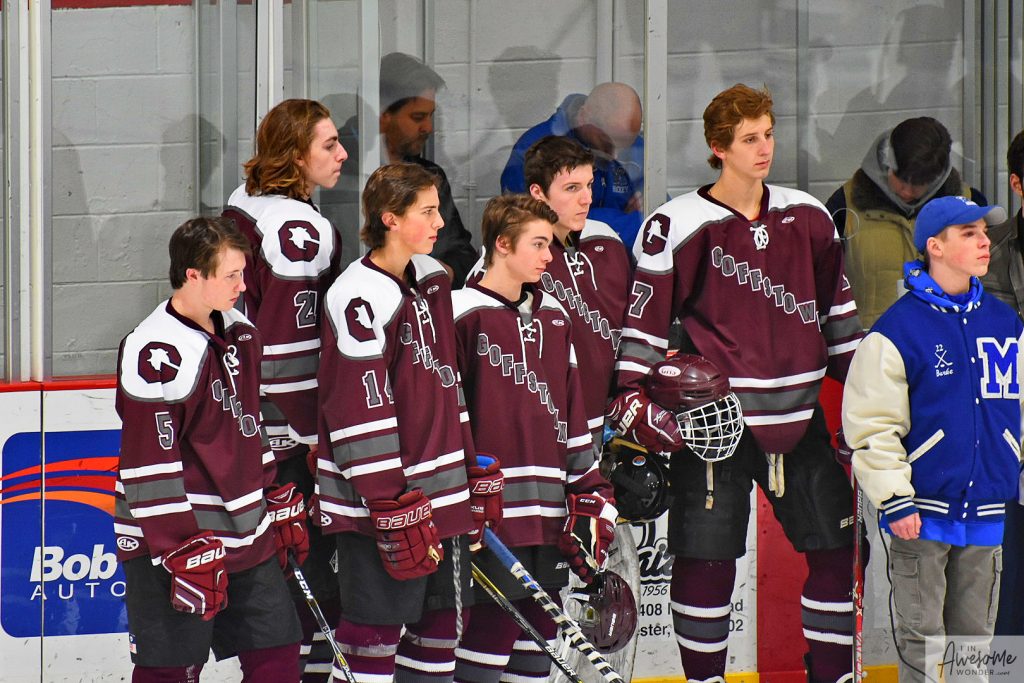 Pre-game tribute to the late Hunter Edward Burke. (Sage photo)
Despite a virtually inaudible sound system at the rink, it was obvious to all in attendance that an unforgettable, emotional tribute was being paid to a former Merrimack hockey player. Hunter Burke scored the first goal of the game at Goffstown back on February 18th of this year. He graduated from Merrimack High School, this year. He got sick and subsequently passed away on August 19th, of this year. Yesterday the hockey teams from Goffstown and Merrimack came together on their respective blue lines and offered a 22-second moment of silence, a full hockey stick salute, while the starters from both squads paid tribute to the Burke family members gathered at center ice.
Words were read, and each of us wondered in our own ways how it is that someone so young is taken away from the rest of us.
Visiting Grizzlies gather before the game at Merrimack. (Sage photo)
Then Hunter's brother John capped off the tribute with a wonderful, tear-jerking rendition of our National Anthem. He did an outstanding job.
Once the puck was dropped it seemed as though the Merrimack squad had been fired out of a cannon, and they started the game fast. Perhaps an emotional boost had surged through those representing the same Tomahawks that Hunter Burke had played for. As Burke had done the last time these teams met, Drew Lemire scored first for Merrimack. Goffstown's 2nd line had been hemmed in their own zone for some time when a slapshot attempt to clear the puck was stabbed perfectly by Joe Pillsbury at the left point. Pillsbury fed the puck across to his D partner (I can hear Jack Edwards now, "D to D") and Lemire let a low wrist shot go. The puck beat Kyle LaSella in net for Goffstown, as it found its' way through a screen of players and into the back of the net, 2:10 into the opening period.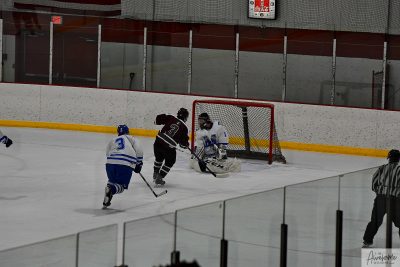 Theo Milianes got Goffstown on the board with this first-period goal. (Sage photo)
The teams traded rushes, shots, and breakouts over the next several minutes while stand-in goaltender, Matt Warrington for Merrimack impressed many with his athleticism, movement, and anticipation on angles. Then the Grizzlies broke through when Colin Burke made a beautiful, head's up, aerial pass from deep in the defensive end to a streaking Theo Milianes through center ice. Milianes grabbed the puck out of mid-air and split the Tomahawk defensive pair, breaking in on Warrington all alone. Theo made the shot count with an accurate shot inside the near post to tie the game at 1-1, 10:25 into the period. Then in the final minute of the period, Colby Gamache and Sebastian Beal tallied goals just 27 seconds apart. Goffstown led 3-1 after one period and outshot the Tomahawks 14-4.
In the second period, also known as the "Griffin Cook period, the visitors scored three more times to increase their lead to 6-1. Cook scored a natural hat trick and for good measure, he registered a power play goal, an even strength goal, and then a shorthanded goal. First, on the power play, Cook was set up by Sebastian Beal and Brett Lassonde after one of Merrimack's too many men on the ice penalties. Then Cook scored from Beal and Jacob Noonan at even strength on a play where the passing combination went something like this. Beal from the corner to Cook at the half-wall, back to Noonan at the point, back to Cook, down low to Beal in the corner, back to Cook who stepped in from the half-wall and to the front of the net to score.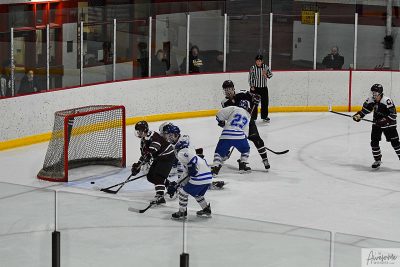 This was one of Griffin Cook's three goals he scored in the 2nd period at Merrimack. (Sage photo)
Finally, while killing a penalty handed out to Eric Purcell, Sebastian lost his stick in the defensive end and kicked the puck to Noonan who slapped the puck the length of the ice. Griffin Cook hustled to the offensive end and retrieved the puck before a Merrimack player could get to it and walked in and scored to give Goffstown a 6-1 lead with 43 seconds left in the period. With 0:03 left on the clock Merrimack's Zach Stimeling scored on the power play from Drew Lemire to cut the lead to 6-2. What shouldn't be left out is that Kyle LaSella made several good saves while Goffstown was short a skater after Colin Burke's tripping penalty midway through the period. Goffstown was outshot 12-9 in the period.
Going into the final period, Goffstown had started turning over the whole roster on shift after shift, which should pay dividends down the road.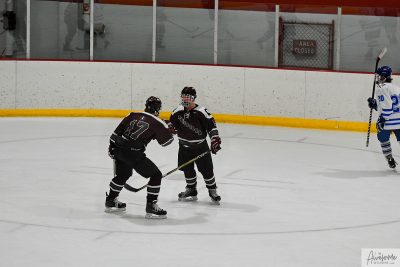 Sebastian Beal and Griffin Cook celebrate one of the six goals between them at West Side Arena. (Sage photo)
The Grizzlies got another goal from Sebastian Beal after he picked off the puck and sniped a shot past Warrington in net during the opening minute of the period. To Merrimack's credit, they never quit skating and persevered. The Tomahawks ending up scoring three straight goals to make a 7-2 blowout into a much closer 7-5 deficit with more than five minutes still to play. Zach Stimeling scored a shorthanded goal on a 2-on-0 passing back and forth break with Dominic Carozza that resulted from a Brett Lassonde turnover at his own blue line. Stimeling completed the hat trick on an even-strength goal set up by Dylan Sadowski. Merrimack's Zach Richard capped the Tomahawk scoring on a clean breakaway when he took the puck off of Colin Burke's stick inside the Goffstown blue line and raced the length of the ice to score with 5:09 to play. Sebastian Beal capped his hat trick less than a minute later on a nice offensive play set up by Griffin Cook and Grady Chretien.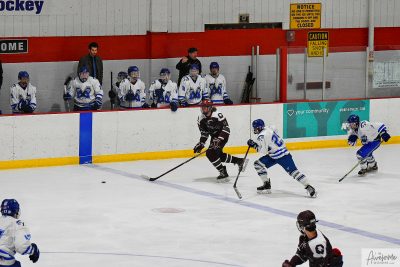 Colin Burke stands out with white jerseys all around. Plus it helps that he's 6'5". (Sage photo)
Chretien then scored from Beal on their next shift before freshman, Lucas Ouellette netted his first career goal from Theo Milianes. Goffstown ended up winning 10-5 and outshooting Merrimack for the game at 37-26 clip. Cook, Beal, and Stimeling all had hat tricks in the game. Despite the tremendous offensive output, both Matt Warrington (27 saves) and Kyle LaSella (21 saves) had moments when they held the fort and then some.
Goffstown improved to 1-0-1 in two road games, while Merrimack dropped to 0-1 in their opener. Around D2, Keene edged St. Thomas 4-3, a repeat of last season's championship game opponents. Keene got a game-winning goal in OT from Jerred Tattersall along with 3 assists, and Brian Langevin added 2 goals and 2 assists. St. Thomas had goals from Vetter, MacLean, and Somerset. Keene has lost one game in 2+ seasons, and St. Thomas may be better than last year. Dover, another contender, blanked Winnacunnet 6-0. led by Asa Forbes hat trick. Jake Natola scored 3 goals in Alvirne-Milford's inaugural game, an 8-3 win over Lebanon-Stevens-Mt. Royal. Kingswood won at home, 6-1 over Spaulding. Somersworth-Coe-Brown went to Timberlane and won 8-2.
Sometimes it takes more than one player to keep things from going sideways. (N. Noonan photo)
Goffstown returns to the ice on Saturday afternoon for their home opener at 2 pm against Winnacunnet.
---
NHIAA Hockey:
Updated records.
Goffstown (1-0-1) vs. Merrimack (0-1-0)West Side Arena, Manchester, NH
December 12, 2018. 4:00 PM Start:
---
Summary:
Goals:
Goffstown: 3-3-4 = 10
Merrimack: 1-1-3 = 5
---
Shots:
Goffstown: 14-9-14 = 37
Merrimack: 04-12-10 = 26
---
Melanie Riendeau gets back on defense against Merrimack. (N. Noonan photo)
Scoring:
1st Merrimack at 2:10. Even. Drew Lemire from Joe Pillsbury.
1st Goffstown at 10:25. Even. Theo Milianes (1) from Colin Burke (1).
1st Goffstown at 14:03. Even. Colby Gamache (2) unassisted.
1st Goffstown at 11:36. Even. Sebastian Beal (1) from Colby Gamache (2).
---
2nd Goffstown at 4:48. Power Play. Griffin Cook (1) from Sebastian Beal (1) and Brett Lassonde (1).
2nd Goffstown at 11:28. Even. Griffin Cook (2) from Sebastian Beal (2) and Jacob Noonan (1).
2nd Goffstown 14:17. Shorthanded. Griffin Cook (3) from Sebastian Beal (3) and Jacob Noonan (2).
2nd Merrimack 14:57. Power Play. Zach Stimeling from Drew Lemire.
---
3rd Goffstown at 0:59. Even. Sebastian Beal (2) unassisted.
3rd Merrimack at 4:27. Shorthanded. Zach Stimeling from Dominic Carozza.
3rd Merrimack at 8:30. Even. Zach Stimeling from Dylan Sadowski.
3rd Merrimack at 9:51. Even. Zach Richard unassisted.
3rd Goffstown at 10:38. Even. Sebastian Beal (3) from Griffin Cook (2) and Grady Chretien (1).
3rd Goffstown at 12:45. Power Play. Grady Chretien (2) from Sebastian Beal (4).
3rd Goffstown at 13:34. Even. Lucas Ouellette (1) from Theo Milianes (1).
---
Special Teams:
Goffstown Power Play: 2 for 4.
Merrimack Power Play: 1 for 2.
---
Saves:
Goffstown: Kyle LaSella 21 of 26. (45:00)
Merrimack: Matt Warrington 27 of 37. (45:00)
---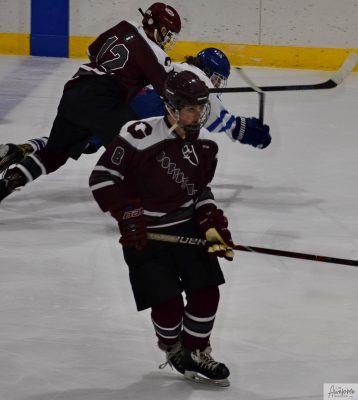 Alex McCarthy (12) and Lucas Ouellette (8) look to create offense against the Tomahawks. (N. Noonan photo)
Colin Burke (21) and the boys, Isaac McGregor (19) and Alex McCarthy (12) at West Side Arena against Merrimack. (N. Noonan photo)
https://goffstownathletics.com